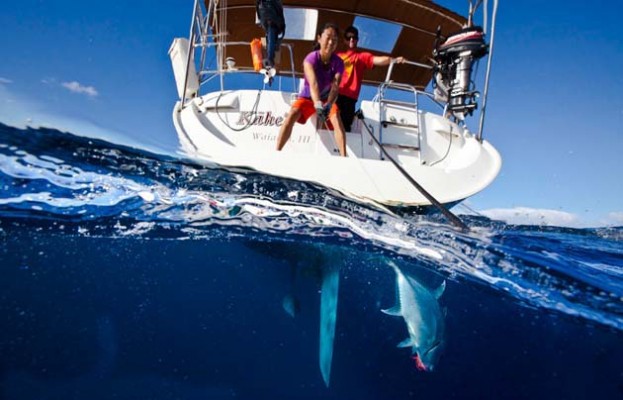 Terry O'Rourke, founder of the Banderas Bay Regatta, loves to tell the story of the boat who was finishing the regatta in first place, calling the race committee to tell them he was dropping out of the race because he caught a fish.
To celebrate 25 years of cruiser racing in Banderas Bay, let's go fishing!
The second day of racing for Banderas Bay Regatta XXV will include a fishing tournament. The tournament is open to all boats, pangas, dinghies, sailboats, paddleboards, kayaks and inner tubes! No handicaps, just fish inside the bay. If you are not already registered in BBR XXV, just pay the registration fee for the fishing tournament.
We'll start at 7am (yawn) and finish at 2pm.
At 2pm, sailors who still want to have a regatta will compete in a short course until around 4pm.
At around 5pm, we'll have a weigh-in on the Paradise Village Marina docks, then we'll head to Vallarta Yacht Club for a fish BBQ to share the bounty of beautiful Banderas Bay. Awards will be presented by Harbormaster Dick Markie for best and worst fishermen.
Let's have fun, eat, dance and celebrate 25 years of Banderas Bay cruiser racing!
Important Note: While we assume most cruisers who have fishing equipment onboard have the appropriate fishing licenses, it is important to remember that all those who intend to fish in Mexican waters, or even carry fishing equipment onboard, require the appropriate licenses. This English link to CONAPESCA (http://www.sportfishinginmexico.com/) provides a good summary of the requirments and how to get a license. When you are ready, here's the link to the online form (English is avaiilable) https://e5cinco.conapesca.gob.mx/ayudadeportiva.php. Don't say we didn't warn you!